Here's what makes our Adventure Treks the best.

► Our setting! We're located in the 14ers region of the Rockies surrounded by 15 mountain peaks over 14,000 feet. Our ranch is less than 9 miles by foot from the top of the Continental Divide.
► Our location! Our ranch is 150 miles southwest of Denver or 3 hours by car; and 120 miles or 2 1/2 hours west of Colorado Springs. US Highways 285 and 50 provide easy access to the Salida area. Our ranch is located 7 miles west of Salida and 3 miles south of US Highway 50 on County Maintained Road 210.
► The best value! On overnight trkes all needed equipment, including sleeping bags, tents, llamas, two guides and taxes are included in the trip prices. You bring only your personal items, rain gear and a headlamp or flashlight.
► Our discounts for children!

All Treks are half price for ages 3-12.
► Our staff!

All trek leaders are seasoned and experienced outdoor leaders.
► Our small, highly personable treks!

We take only you and your guests. No trekking with people you don't know. A minimum of two and a maximum of 5 is necessary for all treks. Don't forget about September Fall Foliage day and/or overnight treks which are awesome and the beauty is unsurpassed. The summer crowds are gone and the forests are quiet.
► Want to sign up for a COLORADO LLAMA ADVENTURE?

Call us at 719-539-4182 to ensure that the dates you want are available. Then go to our "Reservation Information" page, fill out the registration card and mail it with a deposit of $25 per adult. The balance for your trek can be paid for by check, cash, VISA, MasterCard or Discover Card. Our website contains other important information including: clothing list, medical information form, liability waiver and a map to SPRUCE RIDGE LLAMAS Ranch.
To reserve your trip call 719-539-4182
Spruce Ridge Llamas
Adventure Treks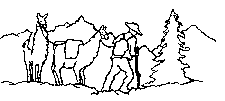 4141 CR 210 Salida, CO 81201
719-539-4182

2018 Colorado Guided Llama Trips
Welcome To Spruce Ridge Llamas Adventure Treks!

Spruce Ridge Llamas, located near Salida, Colorado, has provided day guided llama treks since 1993 for couples and families with children of all ages who are looking for a unique way to experience hiking in the Rocky Mountains.
For 2018 Day Treks are offered, and a very limited number of Overnight Treks. Treks are offered Mondays - Saturdays, but not Sundays
Day Treks and MINI Treks are offered
June 1 until October 10.
For all guests we suggest you bring a water hydration day pack to carry things like an extra shirt, rain gear for those surprise mountain showers and camera. Our "guys" like Frosty, Raphael, Hershey or one of our other llamas will carry our food or snacks, supplies and first aid kit.
In 25 years of trekking our llamas have never spit on a guest!
Our Adventure Day Treks usually begin mid-morning around 9 or 10 a.m. but this is your vacation so we work with your time for leaving and getting back.

Although hiking boots are not needed for day treks please avoid open toe shoes and sandals as our mountain trails have lots of rocks and roots to cause foot injuries.
So please check us out. We know we can provide you with the best Llama Day Trek experience in the High Rockies and at the best price for a memorable Colorado experience.
Dan Jones, Owner & Head Guide
Spruce Ridge Llamas Adventure Treks
719-539-4182
spruceridgellamas@hotmail.com
---

Custom Day Treks include all equipment, food and/or snacks and experienced guides.
Day Trek with Picnic Lunch and Snacks, $85/adult
Children ages 4-12, $45 each
MINI Treks. ONLY for very young children (under 5) and their parents we offer MINI Treks. These "MINI" treks are for those who want to experience llamas but cannot walk more than 1/4 to 1/2 miles, last about 1 1/2 to 2 hours, and include snacks and water. MINI Treks are $50/adult, and $25 for children under 12.
We require a minimum of 2 and a maximum of 5 on all treks
We accept cash, personal checks, VISA, MasterCard and Discover
Pictures from the high country and treks like yours!
Spruce Ridge Llamas Adventure Treks has been featured in many types of media such as Austin American Statesman (2011), The Denver Post Online Edition(2011), Colorado's 5280 Magazine (2009); on Channel 4 (Denver) Colorado Get-a-ways (2000), Shine Magazine, May/June, 2001, Heartbeat Weekly (2000), Online Magazine (2000), The Denver Post (2000), The Kansas City Star, January, 1999, Time to Shine Weekly for Seniors, July/August, 1996, Wisconsin State Journal Travel Section, November, 1994, Ah! Magazine, September, 1994, Abilene Reporter-News Sunday Life, April, 1994, Colorado Summit Magazine (Summer/Fall, 2013) .