Spruce Ridge Llamas Adventure Treks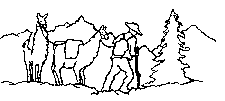 4141 CR 210 Salida, CO 81201
719-539-4182
spruceridgellamas@hotmail.com
"I had to write and tell you how much I enjoyed my llama trek with you. I appreciate you accommodating my schedule. Most llama guide companies I checked out had pre-established take-it or leave-it schedules.
I'm still amazed at how well-trained your llamas were. Their skill at leaving just the right amount of slack in the rope made leading them effortless. I never had to pull them once. There were a couple of times I actually forgot that there was a large animal right behind me.
All your equipment was first rate. I'm sure it wasn't new but to my untrained eye it looked that way.
You did a good job with the meals. It reminded me of the food Mom made when I was camping as a boy. You should know Mom had the advantage of a sixteen foot trailer, so your cooking steaks on an open campfire is remarkable."
Tom, Colorado Springs
Spruce Ridge Llama Treks Reservation Form

---

Please print out this reservation form for each guest and then copy and paste it into an email, or send it via postal mail to us along with a check deposit of $100/each adult/overnight treks. For day treks the deposit is $25/each adult (none for children). However, please call us before mailing your deposit so we confirm that your requested dates are available and can talk about your trek as each trek is a custom trek with only you and your guest(s). We do not take credit card deposits over the phone or via email. Your deposit check can be made out to Spruce Ridge Llamas and mailed to the address below, or spruceridgellamas@hotmail.com.